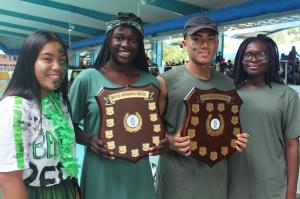 On Thursday the 2nd of March students and staff traveled to Blacktown Aquatic Centre for the annual College Swimming Carnival.
It was another great day in the swimming pool with ten records broken.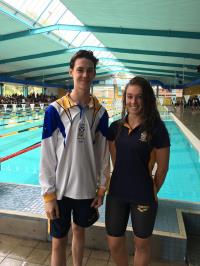 Year 12 student Scott Anschau and Year 10 student Jayan Easton broke five records each in the 100m freestyle; 50m freestyle; 50m backstroke; 50m breaststroke; and 50m butterfly.
The Carnival Shield and the Participation Shield went to the Bennelong House – well done Bennelong!
Congratulations to all students who participated in the pool and to those who cheered from the stands.
Congratulations, also goes to Miss Cassandra Knezevic, her team of teachers: Mrs Nicole Lovern; Miss Claudine Desira; Mr Nick Thurm and Mr Chris Anschau, PDSSSC Co-ordinator for their organisation of a wonderful Swimming Carnival.
Miss Knezevic extends her thank you also to the PDHPE staff: Gary Boardman; Dominique Goldie: James Aronis; and Mr David Frankham who assisted with the early set-up of the carnival and the 100m races.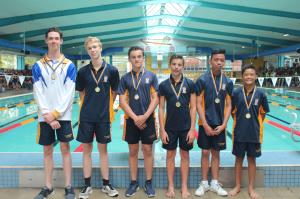 Boys 12 Years
1st Marcus Domingo
2nd Paaras Singh
3rd Zackary Kleinig
4th Eric Modaffari
4th Jonathon Orlowski
5th Henry Wu
Boys 13 Years
1st Marvin Mateo
2nd Joshua Gesilva
3rd Neeraj Naidu
4th Caleb Lowe
5th Ethan France
Boys 14 Years
1st Andrew Easton
2nd Miguel Tuazon
3rd Vinaal Lal
4th Luke Ward
5th Elijah Balobalo
5th Ethan Wong
Boys 15 Years
1st Oscar Housego
2nd Daniel Taylor
3rd Clayton Bonello
4th Gene Tibig
5th Luke Kalogjera
Boys 16 Years
1st Liam Gleeson
2nd Marcus Felizardo
3rd Ryan Oxley
Boys 17 Years
1st Scott Anschau
2nd Michael Mateo
3rd William Lu
4th Jason Taylor
5th Charkrit Atherton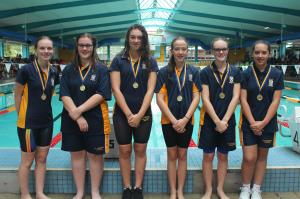 Girls 12 Years
1st Jasmine Zolerick
2nd Hailey Magat
3rd Katelyn Calima
4th Millie Crook
Girls 13 Years
1st Georgia Green
2nd Viktoria Vidovic
3rd Christine Kom
4th Giselle Cazar
Tie 5th Arabella Gutierrez
Tie 5th Caitlyn Xerri
Girls 14 Years
1st Stephanie Out
2nd Crystal Slater
3rd Joanne-Marie Cooke
Tie 4th Teghan McHugh
Tie 4th Laney Shephard
Girls 15 Years
1st Jayan Easton
2nd Anna Kravtsova
3rd Daenya Simpson
4th Sylvia Musel
5th Chloe Riley
Girls 16 Years
1st Olivia Lindsay
2nd Freedom Lowe
3rd Jemma France
4th Centaine O'Donnell
Girls 17 Years
1st Kaitlyn Green
2nd Madeline Hosego
3rd Alyssa Seccull
4th Ashley Naing
5th Amy France