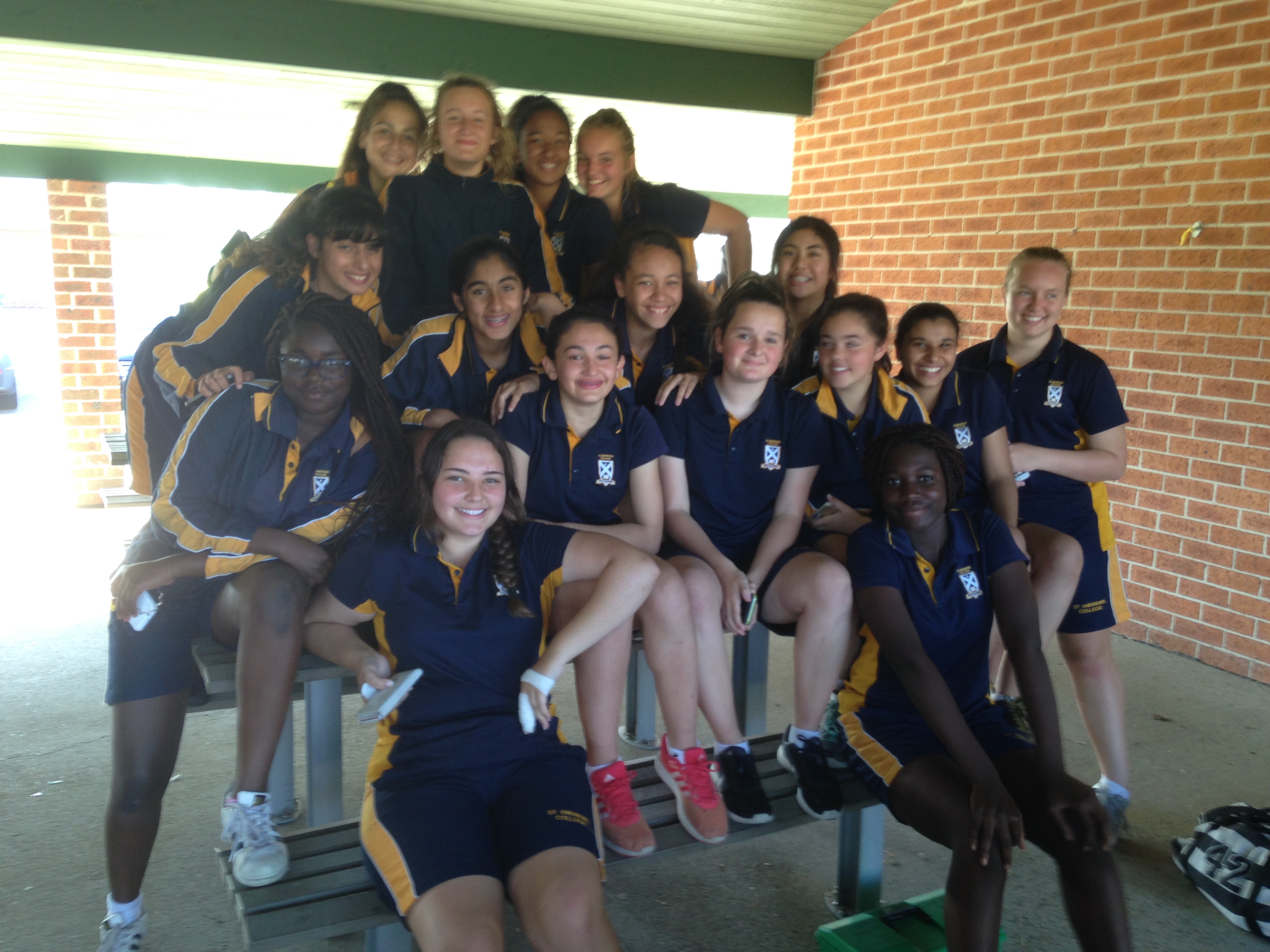 While most students were looking forward to a College half-day on Monday 22nd May, the Junior Girls Soccer team were at school at 7am, ready to show off their skills and have some fun at the PDSSSC Football Gala Day. When they reached Jamison Park, Penrith, the girls were rewarded with beautiful weather conditions and a slightly slippery playing surface thanks to the morning dew on the grass.
With plenty of time to get changed into their new uniforms and warm-up, the players were eager to get into their first match in Pool B against St Marks, Stanhope. This was an evenly matched game with both teams looking to get an early win. Unfortunately for St Andrews, the slippery conditions did not favour our goalie Jasmine who put her body (and head) on the line. With St Marks attacking without relent, one goal slipped out of her hands and we were down one - nil. Our team rallied but just couldn't get the ball up the other end enough and we lost our first game.
After a 20 minute rest, re-group and evaluation, St Andrews lined up against Catherine MacAuley. Keen to get some points on the board, our mid field kept pushing the ball up and Chantelle Lekov managed to score shortly after an opposition goal kick. One - nil up, our girls were determined not to let any goals in and the defence helped Jasmine out by finding their long-range kicks. When the ball did get through, Jasmine again showed no fear and stopped any chance MacAuley had. At the end of the 30 minutes, we had won our first game.
To finish the Pool rounds, St Andrews faced Marian College. We had heard Marian had beaten St Marks 4 - 0 and they had a few Open Rep players in their team but that didn't scare us.
The St Andrews girls came out strong in the first few minutes but it was evident our skill would not match up against such quality players. In the end we went down 6 - 0 but held our heads high after putting in a valiant effort.
Finishing 3rd in our Pool, we did not make the play-offs for the semi finals but we did play a final game against a team from Pool A - McCarthy. Keen to even the ledger, the St Andrew's athletes were determined to score early and ensure the other team did not penetrate our goal. We were successful on both counts with Shagan Kaur-Ghuman scoring and Jasmine again saving all scoring attempts by our opposition.
Happy with a two win, two loss score sheet, the girls finished the day by supporting the boys in their final match while enjoying some hot-chip sandwiches in the sunshine. Throughout the tournament the girls showed great sportsmanship and were outstanding ambassadors for the College. They now take the positives and lessons from Gala Day back to their respective teams and look forward to a successful PDSSSC Thursday Rep sport season.
It was lovely to have parent support at our Gala Day. We would like to thank Mr Holland for being our referee, Mr Ienna for helping out with coaching , Mrs Shrestha, Mrs Ienna and Mrs Shepherd for their support. The girls appreciated you being there to share in the fun.
Team members were: Shagan Kaur Ghuman; Isabella Carter; Laney Shepherd; Paige Henry; Rosa Ienna; Rachel Khalil; Laryssa Trotnar; Maddison McAnulty; Pokua Antwi; Jasmine Swift; Dufie Antwi; Cielo Carpio; Kassandra Shrestha; Chantelle Lekov; Natalie Robbie; Joanne Cooke