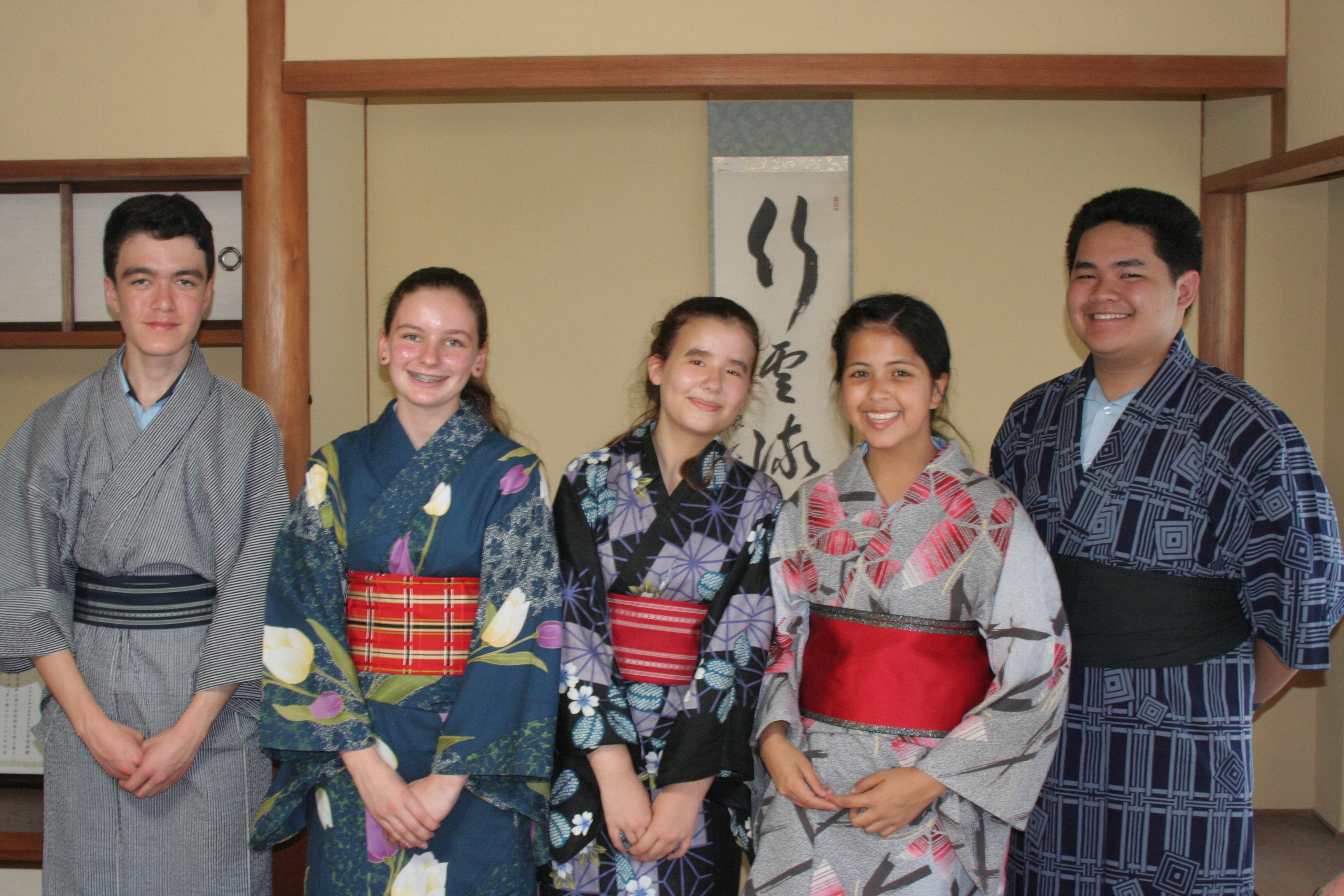 During the winter holidays, Japanese Elective course students from Years 9 to 11 were given the opportunity to partake in the Japan Study Tour, this opportunity happens every two years.
When we had arrived at Haneda International Airport, we were greeted with the bright warm sun although it was only 5 o'clock in the morning. Seeing the sun reminded me that we were really in the land of the rising sun. After arranging to get our train passes we took a bus tour around Tokyo. Passing through places such as the National Diet Building, The Tokyo Metro Station, Rainbow Bridge with a quick stop to see Asahi Beer Company's building that was in the shape of a beer glass. The Sensoji Temple was full of Buddhists coming to pray as well as fellow tourists and the Imperial Palace has a large park area and is surrounded with moats and massive stone walls. Following that, we were given plenty of time to shop at Harajuku. It is famous for having a street (Takeshita Street) with many stores filled with trendy clothing and items. After much walking and shopping we had a brief rest at the hotel before going to have dinner at a Pork Katsu restaurant.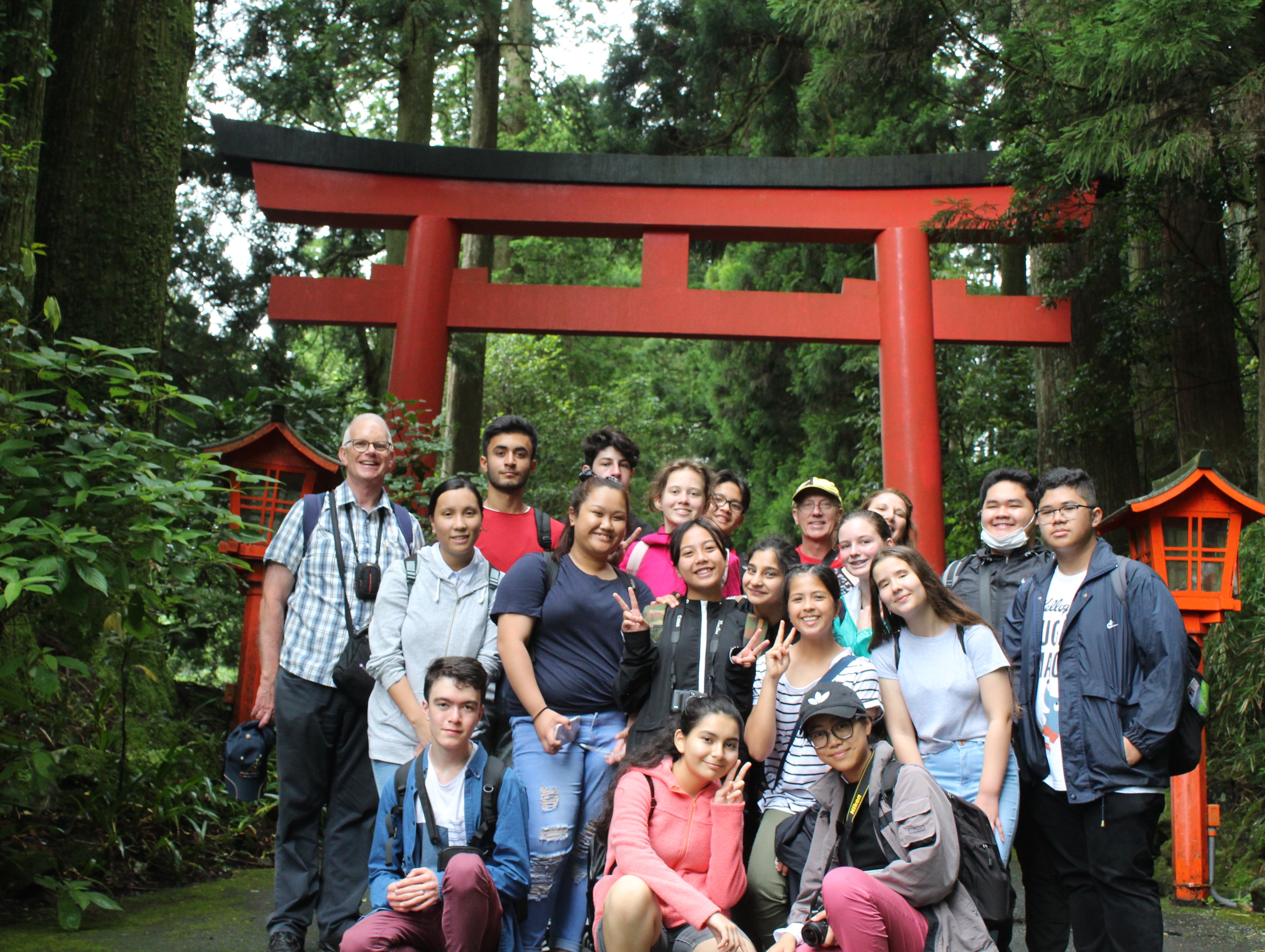 During the opening of the second day, we were greeted with a delicious buffet for breakfast. Following breakfast, we were given the opportunity to experience travelling in a Shinkansen, otherwise known as a bullet train, towards a national park west of Tokyo, known as Hakone. Unfortunately, due to the rain, we were unable to experience the cable car at the Hakone Ropeway, and the Hakone sightseeing cruise, although, we were able to experience a subtle view of Mt. Fuji and the beauty of the Shinto Shrine along the shores of Lake Ashi. Subsequently, during the windy day we split up into small groups and were given the opportunity to try different foods. Some of us eating the Japanese take on western food, while others eating the Hakone style Soba (noodles) Additionally, we also got to view the 11km Old Tokaido Highway. After heading back to our hotel in Shinagawa, we quickly gathered to eat dinner at a nearby ramen arcade strip, allowing us to choose what we desire for dinner.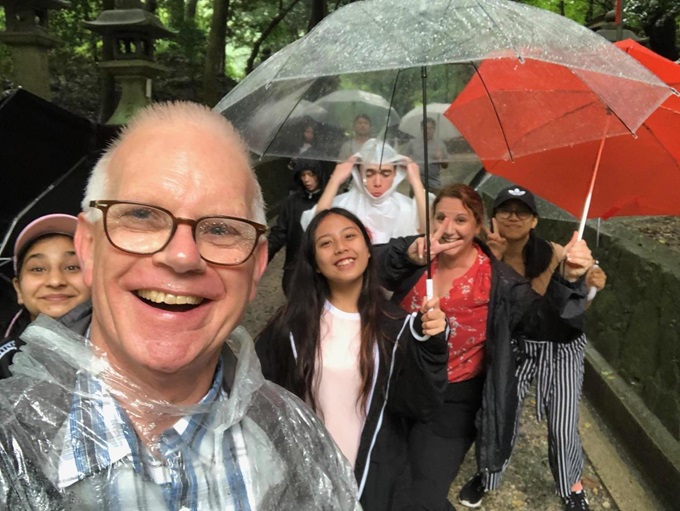 The third day of the tour was spent in Osaka. Whilst in Osaka, we were presented with the opportunity to visit Osaka Castle as well as Dotonbori. Osaka Castle had eight floors, with each floor there were different things to view like relics, videos and more. The top floor gave us an opportunity to look at the city of Osaka from a different perspective. After looking around Osaka Castle we went to Dotonbori. It is one of the principal tourist destinations in Osaka, famous for its plethora of street food and shopping accompanied by a remarkable waterfront scenery. It was pouring rain when we got there and after free time shopping we were lucky to have reserved a place (so we didn't have to wait in the rain - Thanks Mrs Mizukami!!) at an Okonomiyaki restaurant. We had Okonomiyaki (Japanese Savoury Pancake) where it was served and placed on a hot plate.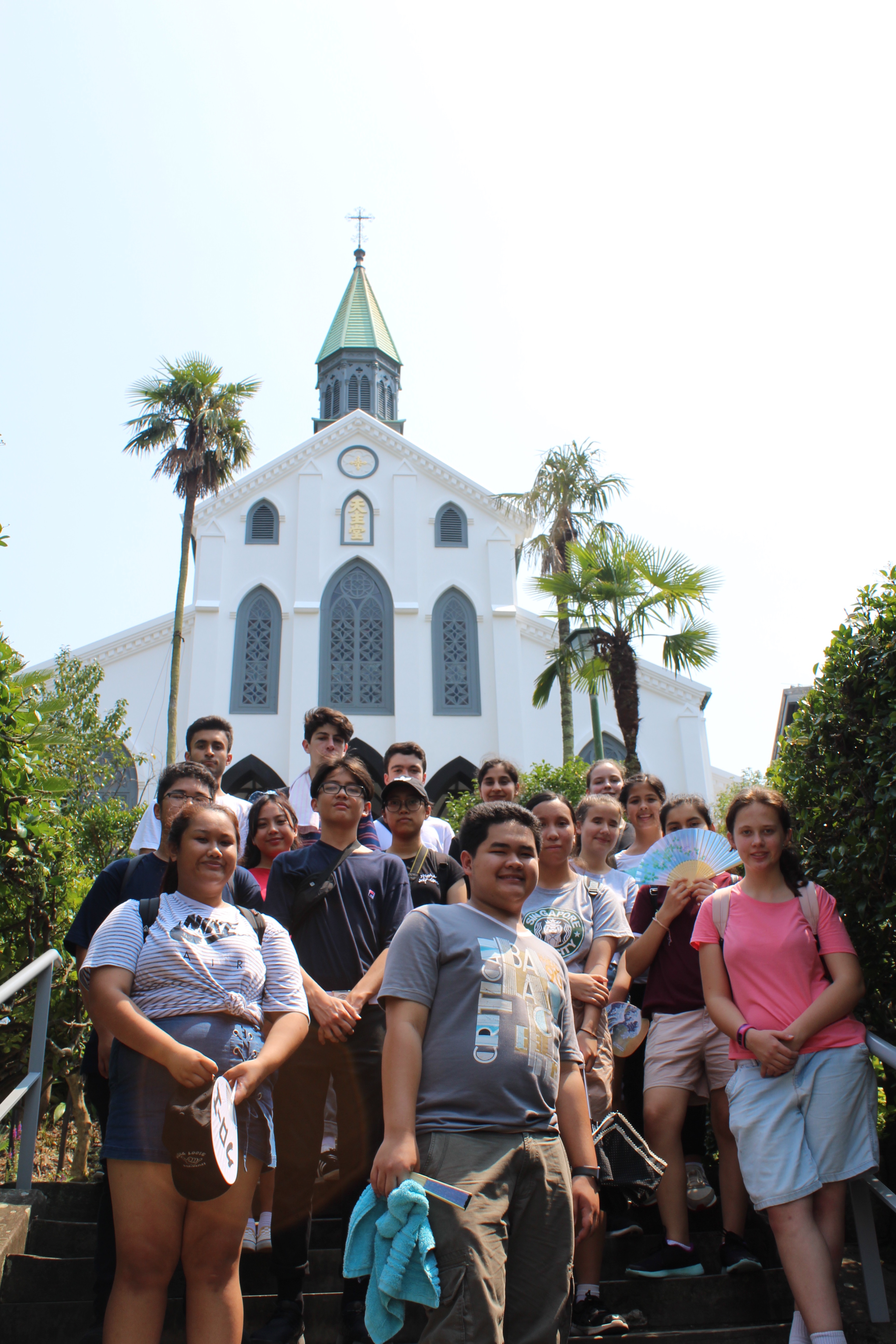 On the morning of the fourth day, we were once again, delighted with a buffet for breakfast, this time at the Hotel Keihan Kyoto Grande in Kyoto. Once again, tasked with the unfortunate rain, we still pushed on with the intended full-day bus tour in Kyoto. During the day, we were granted the opportunity to view Fushimi Inari Shrine, the Golden Pavilion, the Nijo Castle and the Kiyomizu Temple. Each sightseeing venue captured the essence of beauty while simultaneously demonstrating the rich, insightful history of the Japanese culture. Around midday, we split up into smaller groups, and were allowed to explore the hill in which Kiyomizu stands upon. Evident on this hill stands various food stands, souvenir stores and restaurants. Once again, after returning back to our hotel, we gathered together and walked to a nearby AEON MALL, where we ate dinner at a deep fry buffet known as Kushiya Monogatari. Furthermore, following dinner we travelled to Kyoto Station in order to partake in an activity. This activity was to count the many steps leading to the top of the station. Once we reached the top of the 170 (give or take a couple of step), LED generated steps, we were greeted with a beautiful garden gifted with a modern aesthetic and a beautiful view of the Kyoto Tower at night.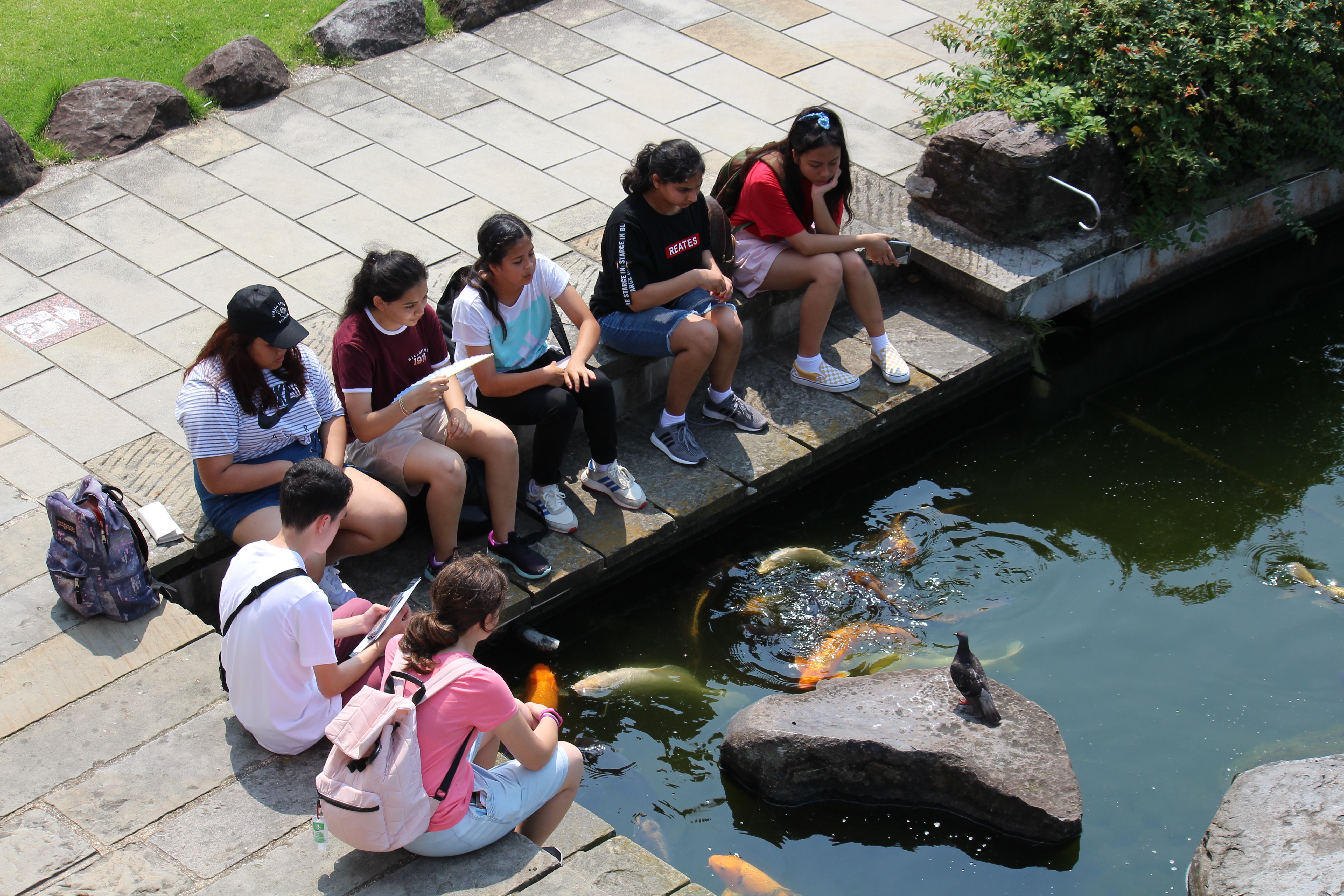 On the fifth day, we headed to Nara which was full of deers walking around the streets. We went to the Todaiji Temple and saw the giant buddha. During our visit at Todaiji Temple, a few students including Katelyn, Leanna and Diana tried to take on the challenge of squeezing through Buddha's nostril (A hole in one of the great wooden pillars). It was not a very large hole and there were many struggles to get through it. The three girls succeeded and it is believed that they will receive good luck and enlightenment from crawling through this symbolic nostril in their next life. If only they were Buddhists! In the same afternoon, we were given the opportunity to learn about dyeing pieces of cloth, which is typically a method to create a Kimono. The Kyo-Yuzen workshop allowed us to learn and try it out. We were given handkerchiefs and were given many templates to choose from.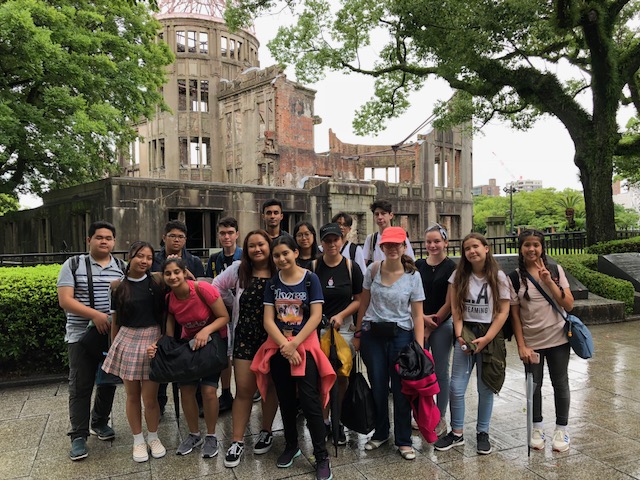 On our last day of sightseeing, we went to Hiroshima to see the Atomic Bomb Dome. We got to see the remaining structures of where the bomb was dropped. After looking around, we took a ferry to go to Miyajima Island. From there we had free time to eat lunch at Machiya-Dori. After that we proceeded to go to Itsukushima Shrine. This shrine is famous for its Torii gate which was in the middle of the water and the views of Mt Misen in the background. After looking around we headed back to the Miyajima Seaside Hotel, where we experienced a Japanese style room and dinner. The choice of experiencing the Onsen was also given.
The second week of our study tour, we spent our time at Isahaya Commercial School and living with our host family at their house. During our time with the host family, we learnt what they do in a typical day. This included when they woke up, what they eat throughout the day and more. We also went to school with our host sister/brother. The students at the school were very welcoming and prepared many things for us to do. On our very first day at the school, we were given a tour and saw the classrooms, music rooms and sport areas. After our day we went to the ESS (English Club) and conversed with the club members. The following day, we went to Chinese and English class with the Year 11 Students. After lunch, we went to a small traditional Japanese room where the teachers allowed us to experience the Japanese Tea Ceremony and wearing a Kimono.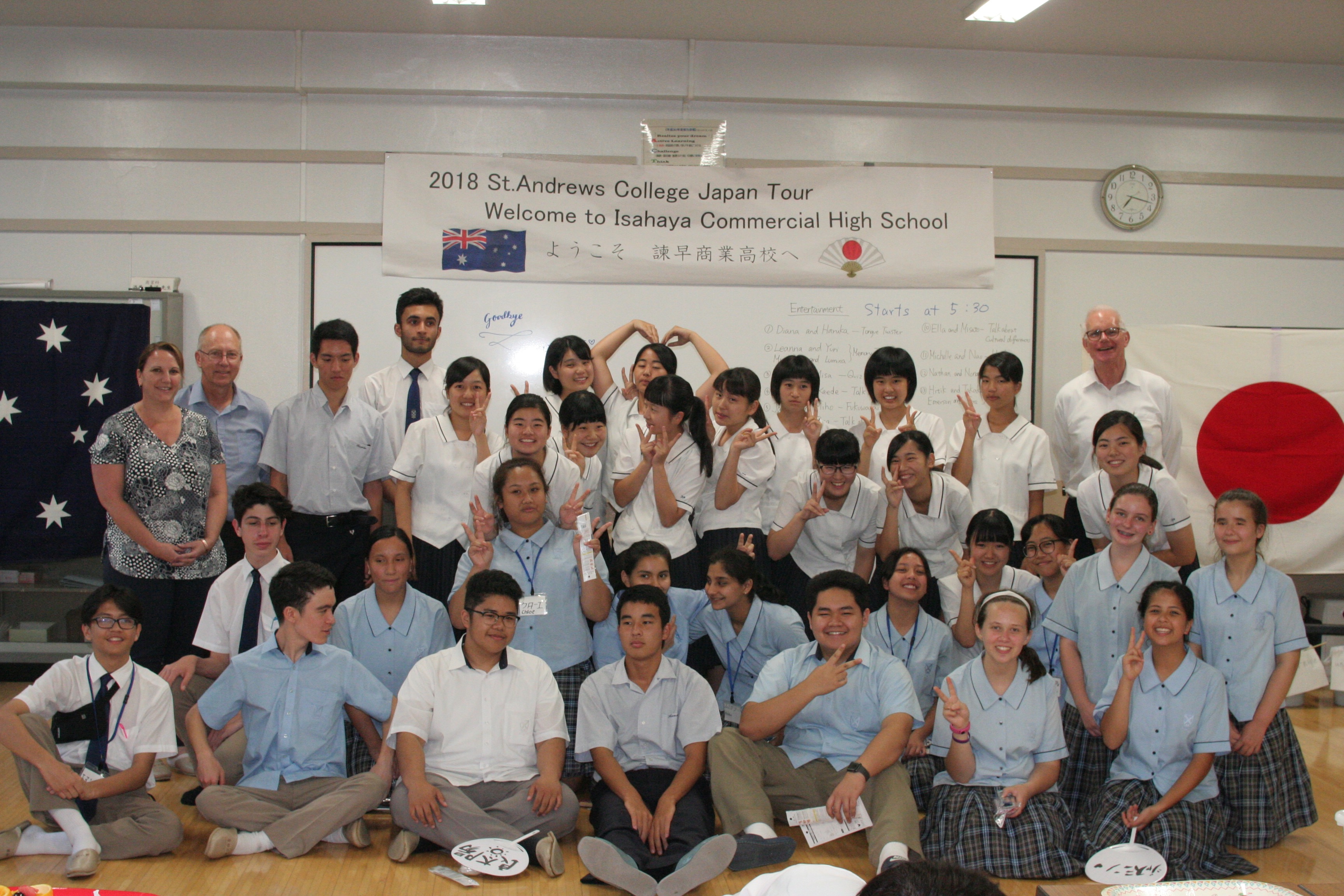 On our third day, instead of going to the school we had a Nagasaki City Bus tour. We went to the Nagasaki Peace Memorial Museum where we gifted them our Senbazuru for peace. At the Nagasaki Peace Park, we saw the Monolith which marks the centre of the explosion and also got to see the Peace Statue with many other memorial sculptures from around the world. We also had a quick tour of the 26 Martyrs Museum. After a heavy remembrance of the atomic bomb disaster it was time to eat lunch at Chinatown, where we ate a famous dish called Champon. Following that, we went to Oura Catholic Church and Glover Garden.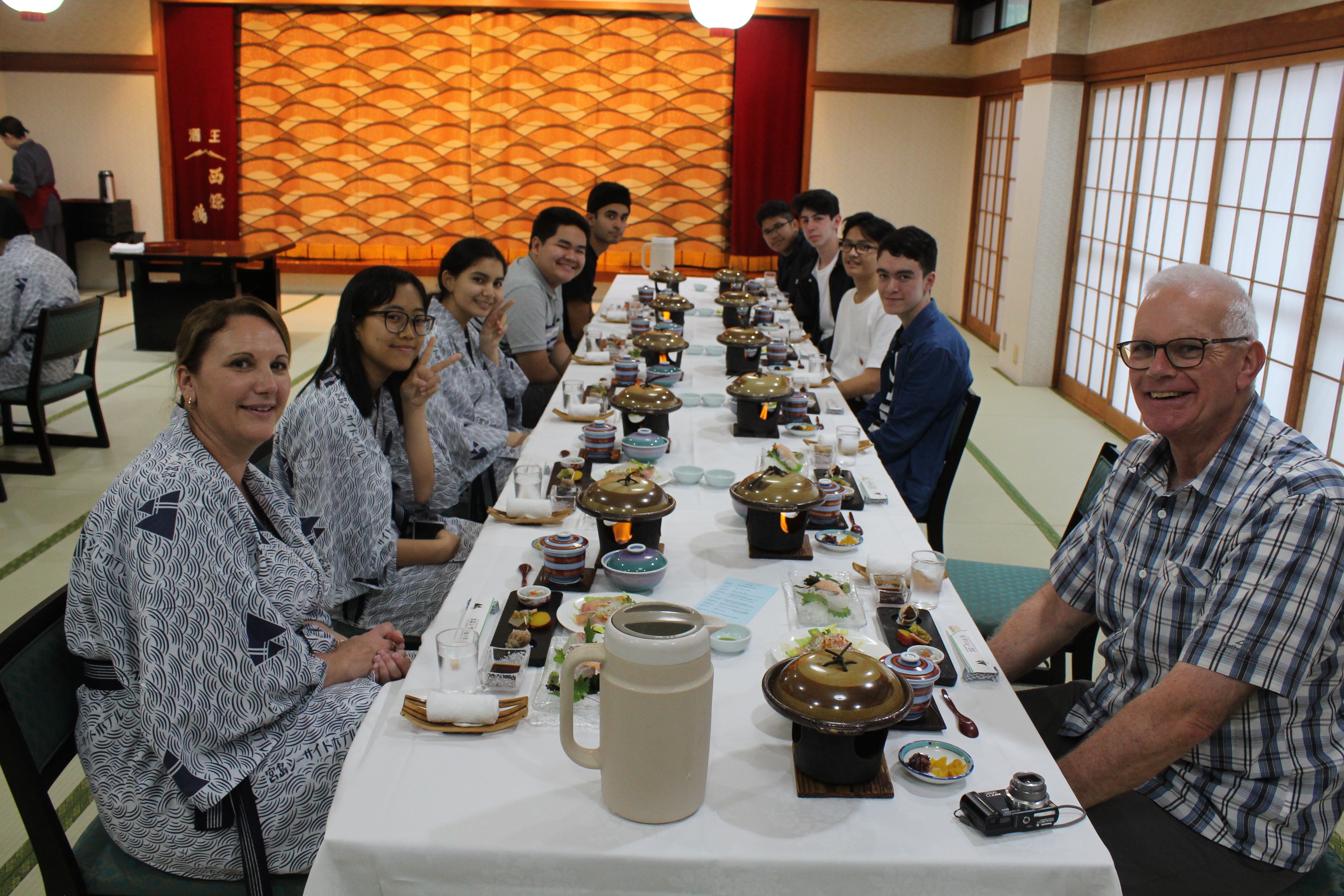 The fourth day, we did presentations on Nagasaki. After, we cooked Somen and Japanese sweets with the Food Tech students. This day was also our last day at the school, so many photos were taken and a farewell party was made. During the farewell party, all host sister/brothers and ourselves had to create presentations on Japanese Culture. On the next day we had a free day with our host families and we made the most with our day as it was the last time we could do things with them. The following morning we met at a parking lot to say our final goodbyes before leaving for Fukuoka. On our very last day in Japan we went to Dazaifu Tenmangu Shrine and also went to a mall, where we did final souvenir shopping.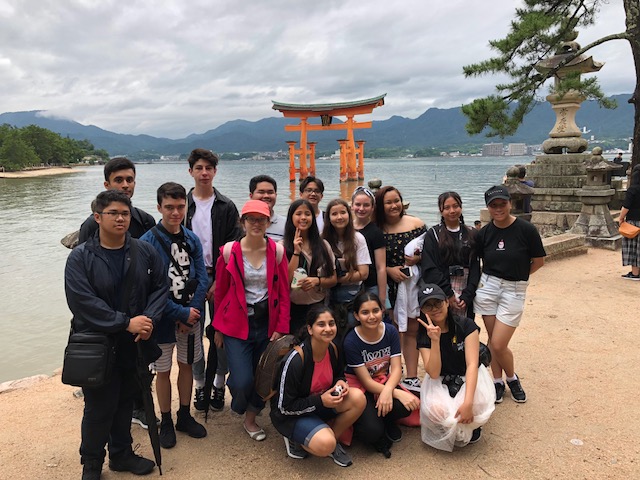 All in all, we had possibly the greatest experience of our lives. It is a trip that brought us all closer, taught us to be more responsible and independent but most importantly taught us more about the Japanese culture and way of life.
Michelle Fu (Year 10); Leanna David (Year 10)
Jesse Brewer (Year 11); Emerson Mercadeo (Year 11)