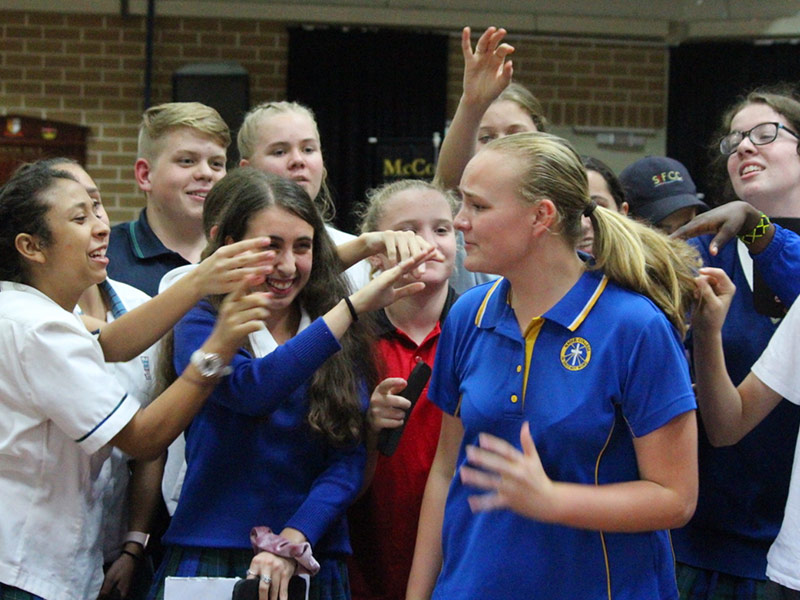 Nagle College Year 9 student Hannah Witteveen plays Gabriel in the CAPTIVATE Immersion performance which went on tour to Bathurst and Wentworth Falls
Up to 48 talented students packed their bags and set off for a performing arts tour to Wentworth Falls and Bathurst this week.
CAPTIVATE, the Performing Arts unit of the Catholic Education Diocese of Parramatta, runs an annual immersion program for leading students in music, dance and drama. This six day program is a collaboration across the three disciplines culminating in a performance at the end of the week. In 2018 students from 21 schools participated in the program.
This year CAPTIVATE Immersion students have been invited to take their performance Gabriel's Travels on a debut tour to Wentworth Falls School of Arts and Bathurst Memorial Entertainment Centre on Wednesday, April 3 and Thursday, April 4.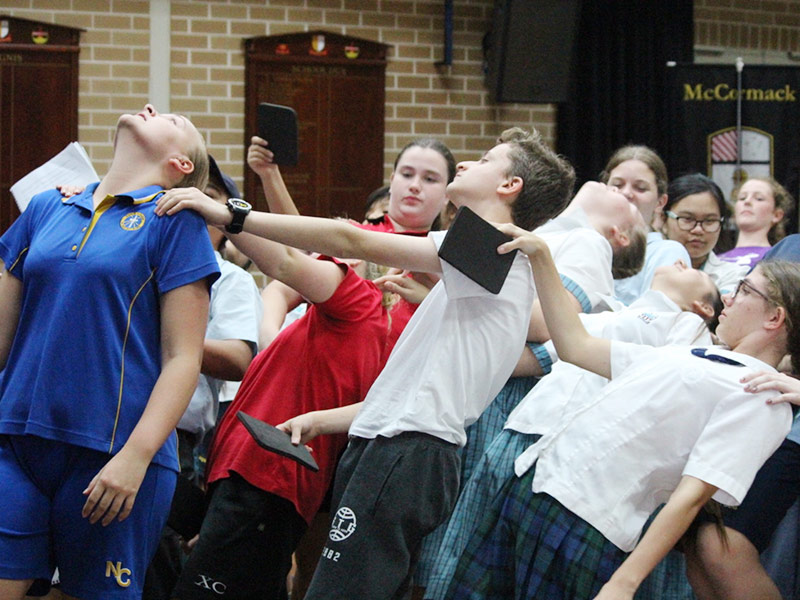 Gabriel's Travels is an original piece written by CAPTIVATE drama teacher, Lucinda Armour and covers the topical theme of electronic device usage among youth today
Gabriel's Travels is an original piece written by CAPTIVATE drama teacher, Lucinda Armour and covers the topical subject of electronic device usage among youth today. It explores the importance of staying engaged in the real world when it is so tempting to live online!
"It is about a young girl, Gabriel, who is attached to her electronic device and will not part with it despite her Aunty Agnes having other plans," Mrs Armour said. "Gabriel then has to navigate herself through the remote corners of the online world, travelling through Instaworld, Twittersphere, Youtubeatory, Rocket-Man-A-Topia and No Man's Land. This leads her to question what she sees."
Playing the lead character, Gabriel, is Nagle College Year 9 student Hannah Witteveen. She describes her character as someone who is addicted to her phone and it is not until her aunt transports her into different social media worlds does she realise how much this device rules her life.
"This is the biggest role I have ever had in a production and it has been a lot of work. As I am a very emotional person I can relate to my character on a lot of different levels. It has been a very challenging role and I have learnt a lot," Hannah said.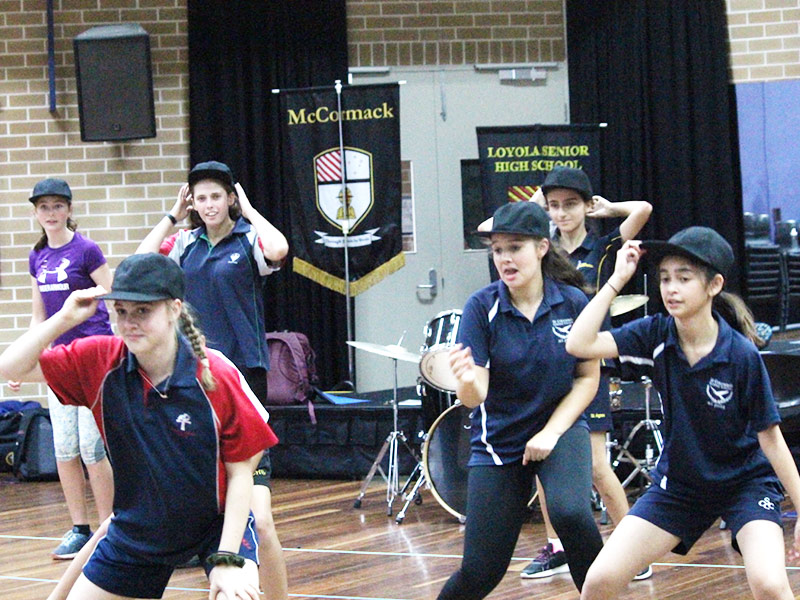 This production combines the talents of music and dance with drama
Dancers Rita El-Ghossein of St Agnes Catholic High School, Rooty Hill and Georgia Carter of St Columba's Catholic College, Springwood said they and their dance crew add a bit of hip hop to the production which is a main feature during the Youtubeatory scene.
"We dance out like the YouTube videos you see and we do what is called the Dance Hat Challenge," Rita said. "In the production, Twittersphere is a world I think is very relatable for people our age as it is a place where everyone has an opinion and the opinions get bigger and bigger."
Musician Lachlan Jones from St Andrews College, Marayong, will play the double base in the production. He said he has enjoyed being given the opportunity to work with both the actors and dancers on a production he can relate to, "especially in this modern day society".
"Normally when you are working on a piece of music it can take you five minutes to get it right, however, with a production like this you have to go through entire parts of a performance to get it right and that takes a lot longer," Lachlan said.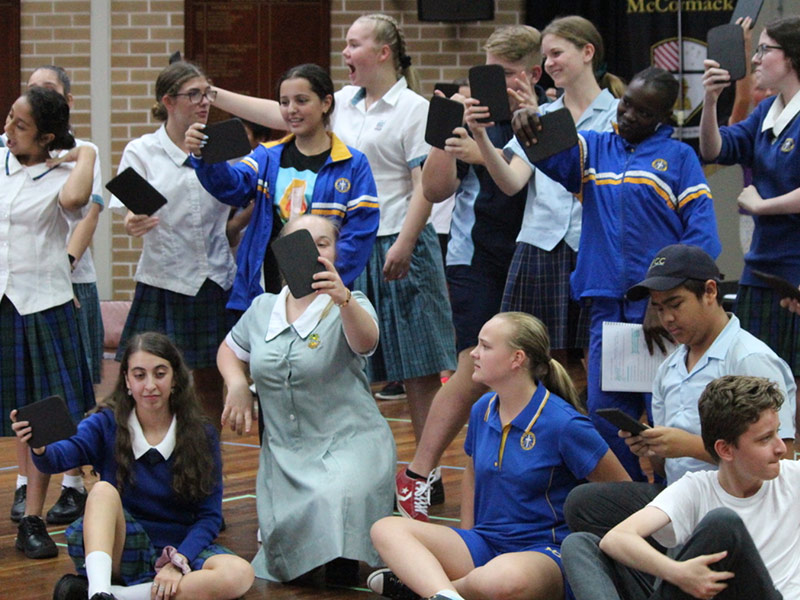 Students rehearse in the weeks leading up to their first ever tour
Choir member Natalie Flores from Nagle College, Blacktown, will never forget the excitement of being on stage doing what she loves. "I hope it is as much fun as it was when we performed it last year," Natalie said.
---
Learn more about CAPTIVATE, the Create and performing arts program for Catholic Education Diocese of Parramatta